Bielet has a wide range of shoes to choose from, but the problem is, she's growing so fast that she has outgrown more than 5 pairs of footwear. The hubby and I thus decided to use the credit card points to redeem her a pair of sturdy new shoes to fit her new bigger feet :):)
Armed with five $10 vouchers, we headed to Stride Rite at Forum The Shopping Mall and were blown away by the wide range of footwear on offer! Basically, Stride Rite shoes fall under three categories -
Pre-Walker
,
Early Walker
and
Off & Running
.
The
Pre-Walker
stage is, as the name suggests, before the little one starts walking. The
Robeez by stride rite
range is really thoughtful and protects the little one when he/she is already crawling and ready to start tottering around any time soon. The shoes protects little feet while allowing tiny toes to grip the ground and still promoting good balance and unrestricted growth. The ultimate cutest is that the shoes are elasticised at the ankles to prevent them from falling off but still remaining snug - kind of like ladies' shoes which had elasticised backings and were quite big a while back - but the kid shoes look so much cuter!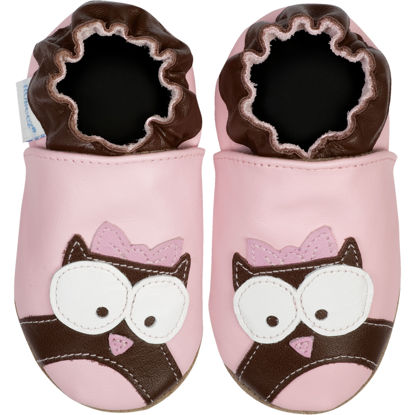 (Source: Mommyposh)
Then, there's the
Early Walker
stage for the eager bunnies (who fall more than they walk) to build their confidence, and get their steps right - in style! The
SRT Soft Motion
shoes prevent stumbles and falls for the first 5 critical months of early walking, while still protecting and support tiny feet.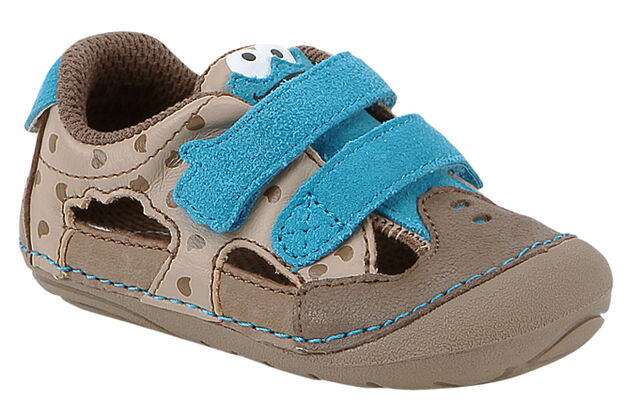 (Source: Muppet Wiki)
Since Bielet is obviously
very
proficient in her walking and running, she is officially in the
Off & Running
stage. The patented construction of the
SRT Toddler/Preschool
range supports developing bones and muscles in all the right places. And while it's not quite barefoot or minimalist shoes, it works similarly to allow kids' feet to get a "close to the ground" feel. The removable insole with a Check Fit system enables moms (like me) to check growing feet and know when it's time to upsize her shoes!
Blah blah blah.
So what were the actual shoes we checked out? Of the stunning array, we finally narrowed it down to these two. While Bielet hasn't watched any Sesame Street shows yet, I absolutely adore the series. No harm getting Bielet to start on a pair of shoes first, right?
(Source: 6pm)
And the winner is *drumroll please*
Oscar The Grouch
! We couldn't resist the bushy eyebrows! Hahaha. Actually, it was more like Bielet has too many girly and feminine shoes already. The darker coloured shoes are also more practical because Bielet loves to stomp in puddles, tromp all over the place and poke the toes of her shoes in all sorts of dark corners. She's loving her new shoes too because it is easy for her to put on and remove the shoes. The velcro bits are in three small squares (at both sides and in the middle of the flap), instead of the usual continuous long thick strap which is really tough to pull out. That said, the three bits still magically manage to hold the shoe in place!