Day 42. Went with my mum and Bielet to Changi City Point again because I was still thinking about that nifty gadget for Bielet. The hubby had read that one way to entertain your cherub during a flight is to give her a new toy, so I really
really
wanted to get the toy from Smart Alley that I had
chanced upon the other time
.
This is us at the mall!
Bielet in a girly tiered dress with matching socks ((: This was one of her birthday gifts from her grandaunties. Her soft curls complement the wavy layers of the dress, don't you think?
Another of my zao lor bags which I lugged, with all the supplies we need for battling baby emergencies! I actually bought this for my hubby but he decided it suited me better. I agree. LOL.
A better view of my flashy tee. I am obviously fatter than the mannequin so unfortunately the 3 ladies weren't really model-esque on me, more chubby but still pretty women!
So what toy did I buy?
This was the toy we got Bielet for her first trip at 12-13 months ((: It's called the
Twist & Match Rattle
from
Infantino
. You can twist the top or bottom of the cone and match the gaily coloured halves of the various animals. There's also a rattle at the top (not pictured) and turnstile at the bottom with 3 different colours and 3 different shapes. She loved it!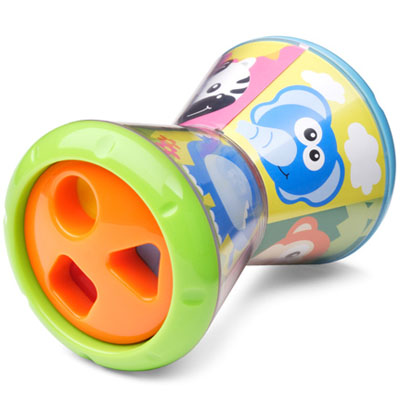 (Source: momspotted.com)
For our upcoming trip, Bielet is (of course) slightly older and needs a more interactive toy so I decided on the cool Alphaberry from
B.
. Check out the toy
here
. You can press each button to hear the alphabet and there are also 4 alphabet jingles for Bielet to sway to. The gadget is small enough for Bielet to cusp in her tiny hands and the techie her totally loves her new gadget! Now to get her to progress from just pressing the alphabet 'I'...
Best quotes: "Learn your ABCs on your own PDA", "Don't trade your Alphaberry for your mom's or dad's Blackberry. Yours is more fun!"
And check it out - this box wraps itself! How eco-friendly! Makes for neat gifts!
Less than one week to our vaca!
Beams.
:: WBW ::
Top : ETC Collections (Lanvin by H&M)
Harem Berms : Lalu (comes with leopard sash belt, not pictured)
Sandals : Charles & Keith
Bag : MBMJ
:: WHW ::
Dress : Cerisi